SEATTLE 34 v CASTAWAY WANDERERS 46 
We thought Seattle at home in a must win situation would get the job done but it didn't happen. CW came away with a win by 12, the score we received was 46-34 for CW but the BCRU website hasn't confirmed yet. That result puts CW in 3rd at 60 points, 2 ahead of Burnaby at 58. They still trail 2nd place UBC by 10 with 3 games left so little chance of claiming a top two spot. Next weekend is a make-up weekend, no CW activity, but they host UBC on April 7th in their next match. Seattle host UVic next weekend for a game postponed on Feb 24th. Seattle are tied with JBAA for 7th, 5 points behind the Vikes with only two games remaining to make up the difference.
Two teams in different areas of the standings. CW have a 3rd/4th place locked up and a home quarter-final assured. They have an outside chance of catching UBC and Ravens for a semi-final home game, but based on the current form of UBC and Ravens it's not looking likely. A loss in this match won't be critical except to determine who will be visiting Windsor Park in April. On current form matching up with Caps might be the best option for CW. UVic are in prime form and JBAA can assemble a top team for the playoffs if they get some key players back. Seattle on the other hand have to win this match to stay in the playoff race. They have one less game to play than their rivals, UVic, Caps and JBAA. Even if they win all their remaining games with bonus points there's no guarantee they'll make the playoffs but lose one and they're almost guaranteed out. CW are sending a good team, they're missing Rob Povey who was influential at #10 at this level. They have Canada players Doug Fraser, Liam Chisolm, Nanyak Dala – a couple of Maple Leaf 7s players in Riley Di Nardo and Josiah Morra. They also have a solid front row. Seattle are tough at home, they destroyed Westshore last weekend. Westshore were without their captain Clay Panga. Westshore defeated CW the week before in an upset. Seattle have added a couple of top players from last week so the task is tougher for CW. Eric Deuchle comes in at #8, it's been a while since we've seen Deuchle in the Saracens lineup and he's now signed with the Seawolves. There are at least 3 players who will be in Seawolves colours once the MLR season starts in April, Crowder, Gordon and Deuchle. Another addition to the Saracens lineup is William Rasileka, the big fijian can wreak havoc when he brings his A game. It should be a good match but Seattle at home and with the extra motivation should have the edge. Prediction: Seattle by 5.
CW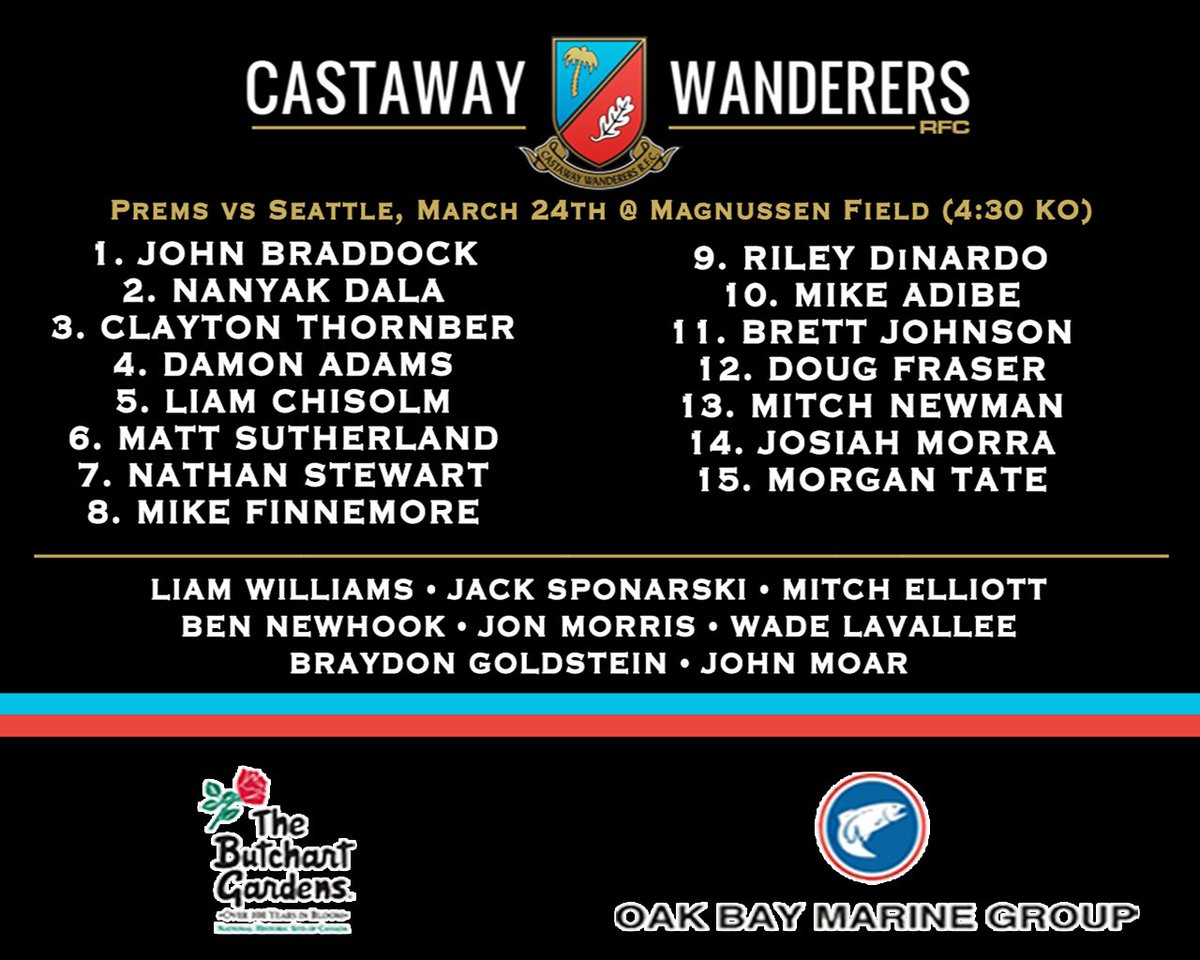 SEATTLE
1. Kellen Gordon (c)
2. Dan Treiweller
3. Danny Sonon
4. Taylor Krumrei
5. Nick McKenna
6. Kody O'Neil
7. Cole Van Harn
8. Eric Deuchle
9. Isaiah Chinen
10. Johnny Reid
11. Dion Crowder
12. William Rasileka
13. Sequoyah Burke Combs
14. Will Stowers
15. Cecil Ala
UBC 34 v BURNABY LAKE 20
This was a close match we called UBC by 7 and it was UBC by 14.  The game was tied at 8 at the half, it tied up again early in the second half with Cole Keffer scoring for UBC and Cole McQueen scoring for Burnaby. Burnaby went ahead 20-15 with a score by fullback Ben McIvor but it was all UBC after that for a 34-20 final. UBC travel to Westshore next weekend in a make-up match while Burnaby have a rest until April 7th when they host James Bay. UBC remain second in the standings but have a game in hand on #1 Ravens. Both UBC and Ravens look set to host semi-final matches. Burnaby are 4th but 12 points clear of 5th place Capilano.
A classic matchup, usually the BC Premier final in recent years. If Burnaby can get the upset they might have a run at one of the top two spots but on form UBC at home will be favourites. UBC putting out a similar team to the one that easily handled James Bay at MacDonald park last weekend. There's a slight shuffle in the front row with Joe Sourisseau coming in at tighthead. Burnaby haven't played since March 3rd, that layoff didn't benefit Caps last weekend, so it will be interesting to see how it affects Burnaby this week. Burnaby pounded Nanaimo in their last outing but this opponent is a step or two up in level. Prediction: UBC by 7.
UBC
1 Cali Martinez (Earl Marriott)
2 Conor Sampson (Charles Tupper)
3 Joe Sourisseau (St George's)
4 Cam McWilliam (St George's)
5 James Carson (Oak Bay)
6 Michael Smith (Earl Marriott)
7 Jake Ikeda (Magee) ©
8 Nick Allen (Mulgrave)
9 Cole Keffer (Sutherland)
10 Wes Wong (Shawnigan Lake)
11 Wes Black (Claremont)
12 John Jubenvill (Earl Marriott)
13 Theo Sauder (St George's) ©
14 Kevin Vertkas (Mentor College)
15 Nick Collett (Southridge)
BURNABY
1 Nik Hildebrand
2 Micha Govorchin
3 Bryce Worden
4 Riley Fahlman
5 Mike Gough (Capt)
6 Mike O' Toole
7 Ed Swire
8 Cole Mosychuk
9 Cody Rockson
10 Nolan Shelley
11 Andrew Porter
12 Max Tacket
13 Cole Macqueen
14 Gino Paolella
15 Ben Mcivor
UBCOB RAVENS 86 v JAMES BAY 0
Unbelievable is the first reaction, can't remember the Bays getting pummeled in such a fashion in a regular season match. The Bays defaulted the Reserves match as they couldn't put out enough numbers. That brought down some ire from the Ravens 2nd team and supporters. There's plenty of back and forth banter on Twitter if you want to follow the thread, you can start with dimgotsopoulos to see 
A must win for the Bays as Seattle, UVic, Caps all have a good chance of winning and putting the Bays back to 8th with 3 weeks left. Could be the key weekend for the Bays. Ravens look fully loaded with Aaron McLelland back from his Ontario visit. Ravens seemed to regain their form last week as they took apart Capilano while the Bays fell to second place UBC. Bays still missing some key players. Prediction: Ravens by 8.
RAVENS
1 Paul Ahn
2 Alex Mascott
3 Marc Belvedere
4 Jon Phelan (c)
5 Sam Clark
6 Nathan Kendrick (i)
7 David O'Donoghue (i)
8 Connor Hamilton
9 Jorden Sandover-Best
10 Adam McQueen
11 Aaron McLelland
12 Ben Grant
13 Aj King (i)
14 Sean Ferguson
15 Harjun Gill
16 David Pelosi
17 Garret Garbe
18 Chris Taylor
19 Karl moran (i)
20 Nick Waggott
21 Kelepi Gucake
22 Karsten Leithner
23 Benz Henrikson
JAMES BAY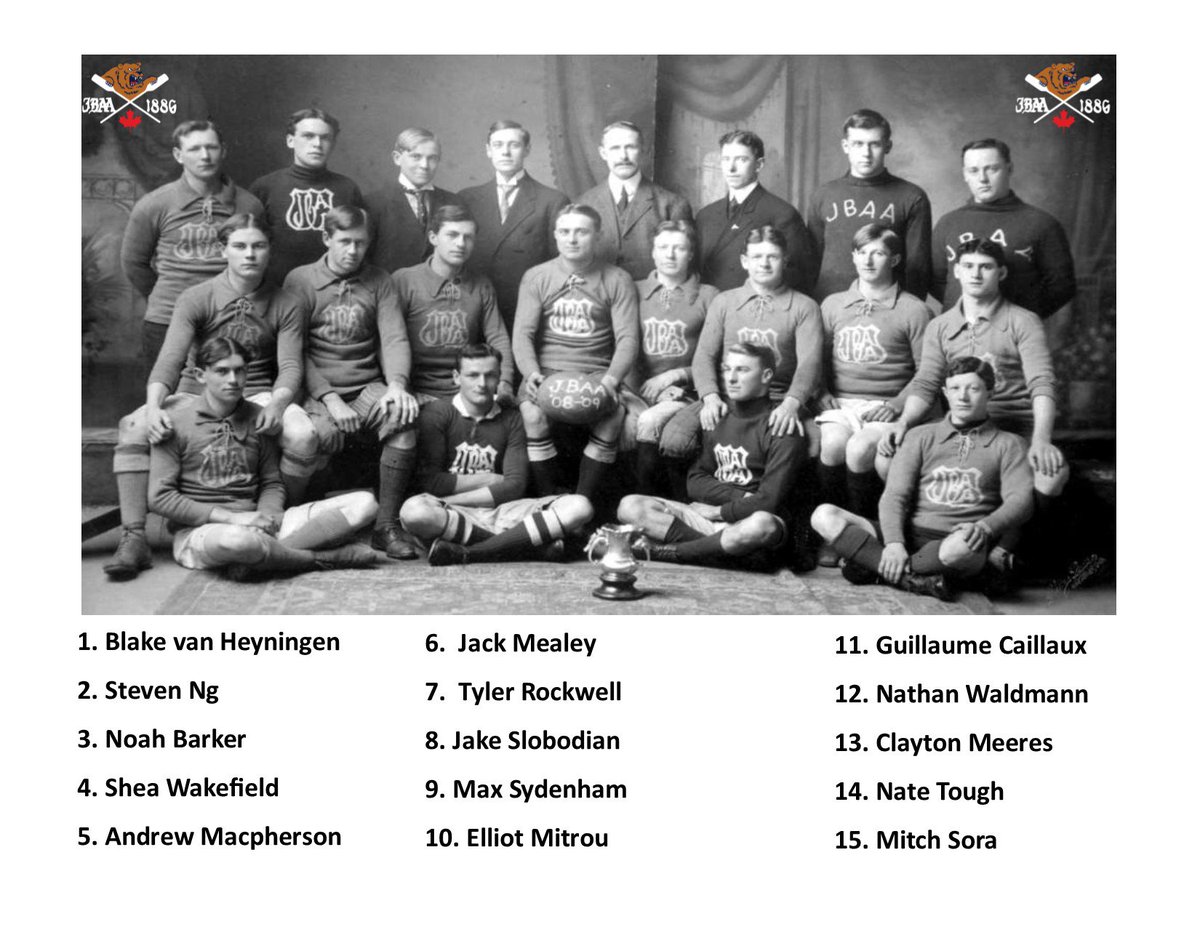 U OF VICTORIA v WESTSHORE @ U OF VICTORIA
Westshore got shocked last weekend in Seattle, their captain Clay Panga was missing and he makes a big difference in their form. Panga is back and it looks like Ryan Kotlewski is back as well which will stiffen up their forward pack. Westshore have some top players in the backline like Sitiveni Nacoko and Taylor McGuire. UVic are the form team right now however so Westshore will have to play to their top level to stay in the match for 80 minutes. UVic have Grady Bowd back at #10 and he could still be in the running for the national spot if he keeps on current form. Brennig Prevost has been scoring multiple tries per game lately and Guiseppe du Toit is back from national duty. UVic have so many scoring threats and the weather looks like it will support expansive, attacking rugby on Saturday. Prediction: UVic by 11.
UVIC
1. MacBryan Bos
2. Spencer Cooper
3. Alex McAra
4. Gavin Kratz
5. Conor Keys
6. Jesse Burns
7. James O'Neill
8. Jackson Matthews
9. James Pitblado
10. Gradyn Bowd
11. Aidan McMullan
12. Guiseppe du Toit
13. Jack McCarthy
14. Cathal Long
15. Brennig Prevost
WESTSHORE
1. Tobias Berg
2. Casey Reed
3. Ryan Kotlewski
4. Jason Gagnier
5. Foster Dewitt
6. Kyle White
7. Jade Billington
8. Clay Panga
9. Rhett Moore
10. Mark Discombe
11. Sitiveni Nacoko
12. Niu Savea
13. Taylor Mguire
14. Spencer Adams
15. Tommy Lee
16. Neil Hagerty
17. Jay Jimmo
18. Simon Abel
19. Dane McKinney
20. Matt Kemp
21. Wilhem Horn
CAPILANO v NANAIMO @ KLAHANIE PARK
Caps are another team who must have the win to continue in the playoff race. Nanaimo upset Caps at home so look for Caps to be motivated and not underestimating the last place team. Nanaimo have been leaking points, well over 40 points a match on average, even though they have been putting up 20+ of their own on average. Prediction: Caps by 12.
CAPILANO
1 Mackenzie Mills
2 Jason de Freitas
3 Neil Courtney
4 Reid Tucker
5 Rich Merinsky
6 Jonathan Webster
7 Jordan Reid-Harvey
8 Glen McKinnon (C)
9 Chris Robinson
10 Steven Cassells
11 Erik Hunter-James
12 Chad Carlsen
13 Johnny Franklin
14 Austin Karius
15 Sam Franklin